Ok, just one today!  I was out taking pictures today of our golden retriever in the spring foliage that has popped up (namely the lily-of-the-valley "sea"). I was just going through them and almost forgot to post! By the way, I must have looked like a crazy idiot to our neighbor, who has no idea I am practicing for this venture, laying on the front lawn with a camera in my dog's face.  Wow!  She drove by and I had to fight the urge to pop up and wave, pretending like I wasn't just laying in the mud. ;)
Anyway, here's one of the recent ones - I don't know why, but this original sparked a need for a "hand shot" of these guys during their vows.  I honestly started looking for a ring exchange picture, but this one got me for some reason.  So, I decided there was no harm in trying to "fancify" (I know, it's not really a word.) this one up.
Disclaimer:  I did not take these pictures!  They are here for a "makeover". Go 
here
 to find out the whole story.
The original image is really nice - I love their location because it gives this "buttery" out-of focus effect to the trees behind, giving a fantastic background for their ceremony, the color is just beautiful. I just decided to crop it much closer and see what happened...
The only problem with cropping closer is having to get rid of a few distracting parts...the microphone stand, the woman's arm, etc...
Zoomed, cloned out excess.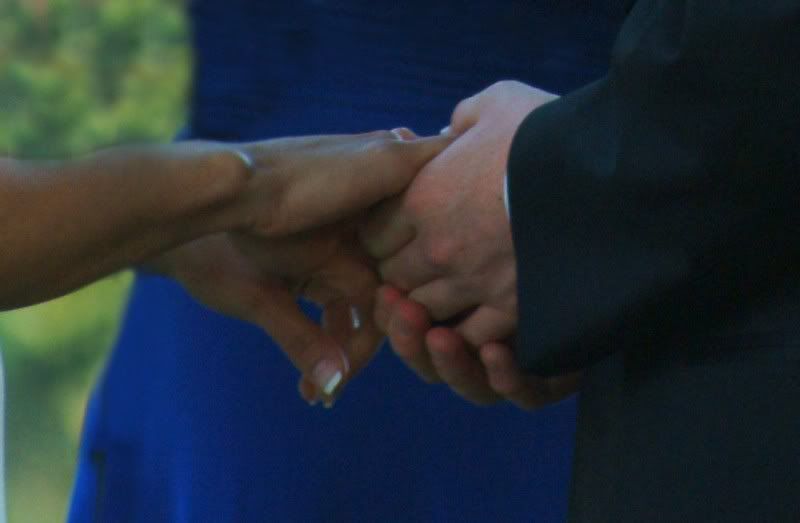 Added a paper texture and a quote that reflected my feeling of what the picture was saying to me - that - well, basically "all that matters is this moment, the here and now - all that matters is us!"  Here's the final image:
I thought I was finished with this one, and I accidentally hit a button to "wash out" the color in the image.  I sort of liked it - not better than the final I came up with, but enough to include it here.  What do you think?