Texture is a very trendy thing to add to a photograph nowadays. I do know it is a very controversial tool in the photographer's bag of tricks! Some use it well, some overdo it, others think it is absolutely unnecessary. And everyone out there has a different opinion!
Me, I just like to play around with it! I love that it can take any picture and give it a completely different feel, depending on what you choose, if anything...and you can use several on one picture. It's an art form, and one I enjoy seeing others display and one I really enjoy working with. You can take up-close pictures of trees, concrete, the clouds, your hair, wood grain, basket weave, water, paper...do I need to go on? Everything around you has some kind of texture - so it's neat to overlay any kind of texture picture over an existing picture in Photoshop to see what happens. Plus, there are tons of free high resolution pictures on the internet from people all over the world that have offered them up for free use. Cool, huh?
I can see how some people don't like it at all...and I shied away from using more of it in the past based on some opinions...but since this is a learning journey, fun...and a picture of my kid...I figured I couldn't go wrong! :) I especially love what it can do to a mediocre picture, even though sometimes it can be way overdone.
This picture is of Cole....and Spaceballs lovers unite...he's giving me the raspberry. :) (I HATE raspberry!) hahaha, I just love that movie. :)
Here is the original picture...one I was practicing on him with the flash - it came out a little too bright, - it's still cute, but I thought I would play with it - and I think the added overlay texture (a high resolution picture of a blue leather couch, by the way!) gives the picture such an old-time kind of Polaroid feel - I'm liking how different it is from the original. But they will both go in his baby book for sure!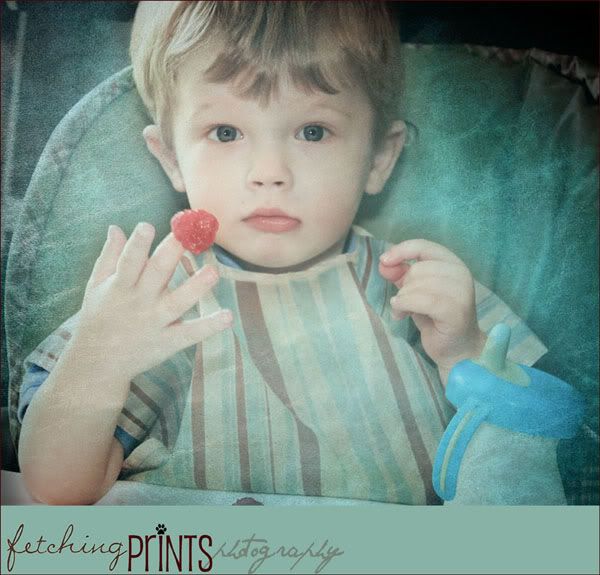 Tell me what you think! Love it or hate it, why? I would love to know your feelings on what it does to you. Texture is so controversial! Of course, I wouldn't do every picture like this, and most not even this obvious, but some just call out for...something to highlight the focus of each picture. Discuss!