The new year is always bittersweet for me, one that gives me simultaneous hopes and regrets, a push to the future and a wistful look back at yet another year gone.
Thus my dilemma.
I have come to a crossroads in my life journey - one that will be displayed here as photography is one of those very roads. What to do? What to do? Soul-searching has been a constant "state of mind" for me lately.
I have stumbled upon this photography part of my life, just as I had onto motherhood - pure, sheer luck or.... fate - as one would have it. The triplets were certainly a surprise and an instant dive into the dirty deep end of parenting! Mike and I have fumbled and struggled (we still are!) but realize that this is our only chance at creating a life for the only children we will have (if we can control that one - the last time I said that, God laughed at me.... and then threw three kids into my uterus).
We want it to be the best it can be for them, an amazing childhood, a loving home, fond memories for the start of their story. I want to teach them the world, not have someone else do it for me! I want to be an integral part of that, for me and for them. I realize that home schooling their entire curriculum through high school would be a disservice to them, since I am not a certified teacher and they deserve to be social with others than just their frumpy old mom. But, I think...no, I know, that I want to home school their preschool years - I want to be the one that opens their little eyes and minds to the world outside our door - to learning the basics and beyond - together. Here. With me. While I can get it!
I have often thought I would make a good teacher of early elementary kids...now I know I can be a good teacher of my own kids for this time. That is why I was given the ability to interact with young children well, but why I never chose to use it as a career? I can see why God has given me this ability, and I plan to use it full force on my children...God help them. :)
But, I can also see my limitations will begin just as kindergarten starts, so I will take these next two years to mold my kids into learning, loving readers and artists and mathematicians (right) who will want to soak up all there is to learn about the world, about people, about themselves - about what the world could do for them and what they can do for the world someday. I want to guide and shape their senses in a way that they keep them open and know that learning never ends, that there is always more than one perspective and that humility is the key to making the world a better place. All that and more!
My kids are my world right now, and I need to focus on that world for the next two years with the most ferocity that I can muster. It is all I will get and I intend to make the most of it.
That's where the crossroads comes in....
A year and half ago, when we lost our German Shepherd
Ruger
, my first baby (truly), one morning I woke up, almost with a start, seemingly with a message delivered through the mourning of his loss, from him (or Him), or both - that my purpose other than being a good wife, mother and family member was to make a passionate career out of photographing animals just like him. To spend time with the people that loved those animals as much as I loved
Ruger
- to make the most of the time I had on this Earth mean something, and that meant capturing the spirit and love and connection of these people and their beloved pets. It was so clear! I loved to take pictures, to see the extraordinary in the ordinary and I loved animals so much I had been constantly searching for a career immersing myself in their presences. That morning was incredible - finding out in an instant what you were meant to do is humbling to say the least.
Exhilarated, I realized I had a lot of work ahead of me. I still had to learn how to take those pictures. Technically, I had never used a complicated camera - and logistically - I didn't HAVE a complicated camera. But I knew that I could do it, if I set my mind to it. Somehow.
The triplets were about a year and a half old at the time, I was a full-time stay at home momma, and so we were shy one half of our income, and running at 3 times our normal (
pre
-kid) expenses.
Hmm
.... Luckily, my mother had a complicated camera she was willing to let me borrow (hijack) for a very long time...and I devoted all my free time to scouring the
internet
for resources, how-
tos
, inspirations...and then applying them to the awesome said camera. It took a lot of time to master the basics, but I think I did - always learning, though! Throughout the year, I had a few willing (shy!) participants step in front of the camera for me to practice and that practice was invaluable - since I realized that part of the reason I loved to photograph was to photograph people as well...
I realized I loved to photograph emotion. Emotion is so awesome to see and even more wonderful for others to see it in a photograph I took. It makes me smile and giggle with glee and sometimes even cry every time I know I have captured the essence of a person, of a relationship, of an animal - and to give that to someone is my best reward.
I also learned that I love light.
Light to me is a presence in a photograph. I love capturing the sun/other lights in ways that make the picture take on a new dimension. It enhances, it helps characterize, it stands on its own - it warms, it sparkles, it glows, it twinkles...so many different qualities to impart. But it is a presence to me! It may seem silly or New Age-y, but I like to think that when I capture light in a photograph of someone, that it is the spirit of
Ruger
, letting me know he is there, and that he approves of my new venture. That he is there is all I need to know, and another reason for me to never stop including it.
Emotion and Light! That about sums it up. I have learned a lot in the last year - and even though I had hoped to have a standing, functional business by now (it was a goal for me last year), I am glad about the way things are shaping up. I need to learn more before I am comfortable charging money for what I do - I am solid and firm about this, regardless of what my wonderful supporters are telling me (I love you guys).
And now that I know I am solid in my desire to home school preschool for the next two years, I am at a crossroads between family and business - isn't it always the way?! :)
I know that I want to do both now, but now is the time to teach my kids - and in two years that time will be over. The photography will still be there, conveniently at the time I would need to go out and get my day-job back. :) Sweet.
So, the plan - after much soul searching - is to continue on this path - of technique and form learning and continually searching out my "style", of becoming more comfortable with the idea of calling myself a photographer. Of photographing "
Ruger's
light" in the most beautiful way possible... But also of learning about what I love to capture and trying to give people that gift, if only I can.
Teach my kids and be the best momma ever...first. Then photography world...look out!
So, to the title of my post: the opposite of the supremely depressing song I hear at every funeral... I took these pictures in the late summer across the street in a beautiful field watching the deer go by, sitting on the quad, sucking up the warm late summer air....I am such a country bumpkin...and I LOVE it. These are my faves, symbolic and serene.
I want this end to 2009 to be a beautiful sunset followed by a glorious sunrise of 2010. Both years equally great and the light from both to be my guiding force. Thanks again,
Ruger
- I miss you, babe.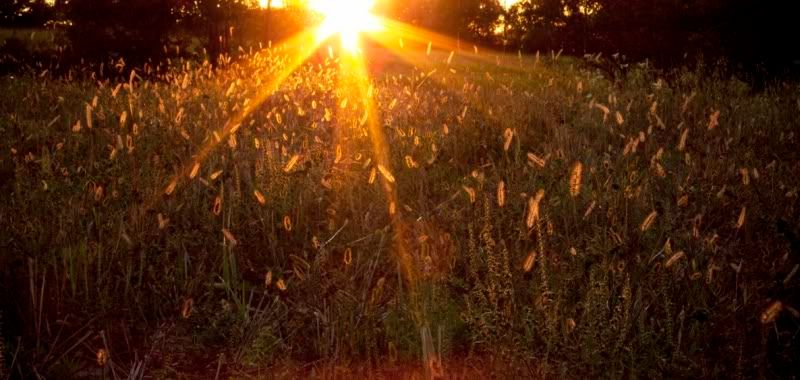 Just a note: I have really thought about this, and since I have so much I want to concentrate on to make myself whole and ready in/for the next few years, I will not be taking on any new shoots this year. I have some learning opportunities already set up and so much to do - so if you are looking for a pet photographer or a portrait photographer, I can recommend a few whom I really love in the area! Hopefully next year, I will have the time available to make myself available - and that will really be great. :)
Please feel free to leave comments on my learning selections over the year, in fact, I would be honored to hear your voice! I will still be posting as I learn, and I still have a backlog of sessions done in the fall, so I will be here - I hope you keep along with me on the journey!