Storyboards, in the photography world, are sort of a way to collage pictures. A way to display them using text and graphics or to group a set of images together and present them the way
you
see them. Less room for each individual viewer to interpret the photos, more a way for the creator to show their interpretation. Make sense? 
And the sky is the limit with these! I have seen ultra-simple ones and some that must have taken days to create. It is one of my favorite ways to see pictures, since there are a multitude of options.  You can change up the background, use different colors, textures and layers - and the quotes can be anything from Shakespeare to Seinfeld to yourself! And each change, you guessed it, changes the feel of the storyboard!  It can be daunting starting a new one from scratch since the paths to approach it are infinite. 
This is the first of a few storyboards I created with Paige's pictures.  I started thinking that the best way to romanticize an already taken picture is to surround it by beautiful quotes, swirls and soft effects.  Plus, I have always wanted to know how it was done.  
So, I went to it!  This was the first one I created, a few months back.  My very first storyboard.  :)
As you will notice in the coming days, I am a fan of Shakespeare, Browning, Emerson, Yeats - especially for ultra romantic pictures.  All of the classics - they offer the perfect poesy prose for a romantic setting.
Here is the walk through!
Disclaimer:  I did not take these pictures!  They are here for a "makeover". Go 
here
 to find out the whole story.
First - the original picture.  It has many redeeming qualities here - if you look closely!  The best part of the picture is so far away. The pose is just so....old-time fairy tale, don't you think? I love the emotion Casey is putting into kissing Paige's hand - so much love there.  And Paige is so comfortable with it, like their souls have known each other forever.
Problem: The color is washed out, since it was taken in bright sun (it is setting, but still right in Paige's face), and it seems to have been taken on the edge of a golf course. These were the things that immediately stood out to me as a detraction. That and that bush right in front of Paige!  Though, there are many nice assets of this picture - her flowing dress - their shadows are neat and the flowers on the ground.  Also, the building is cool, but it is featured in another shot, so I chose to cut all of these things out.
So, I zoomed in and cropped to what I thought was the central emotion. The hand kiss and their reactions.  And I amped up the color and the shadowing, to make it more dramatic. Then, I softened the picture to make the flowers and bushes in back become sort of dreamy - caused by that same sun - now highlighting everything. Let's use it to our advantage!
Even though I corrected the color, I tried black and white for a timeless look here. The shadowing helped a lot....I liked it better.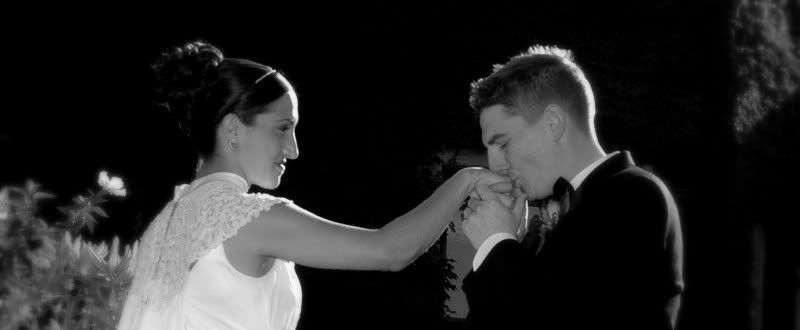 Then, I added the background, quote, swirls and borders... and here is the final result:
I will post another one today, hopefully.  I have created about 4 or 5....so far!